Preparations Part 1

Artefacts are coming and we must be ready for them. It is to be our first real test of the server. How well the various alliances do in seizing them will be a good indication as to which alliances have got what it takes to win the server, and which do not. This is the first of a series of MMs so that we can fulfill our true potential and be fully prepared for not only artys but the wars which will follow it.

Other messages will deal with the details as to how artys are to be captured, how they will be assigned, how they will be defended though its right for you all to know at this stage, that anyone who is active and who will be able to make proper use of an arty, will have some time with an arty during the server. This message is to let u know what u must be doing now so we aren't left behind when the artys do appear.

1. Local Cats
All players must have a minimum of 100-200 local cats. Artefacts appear in natar villages. To seize them, the natar defences must be cleared, the treasury destroyed with cats and a hero attack the village, having been launched from a village which itself hosts a treasury. There are, therefore, 3 stages

A – the clear
B – the cats
C – the hero

The speed by which we are able to seize artys will be determined by the slowest travel time of those 3 stages which invariably will be that of the cat wave. It follows that having cats close to where the arty village spawns, will speed up the seizure immeasurably.

It is to this end you are required to build local cats. It doesn't matter if the escort for these cats is only 100 clubbies. It doesn't matter if you are a defensive player. What is essential is that SA has the ability to launch and land cats, at almost any location, in as short a time as possible.

What do I mean by local cats?
Each 7 x 7 should have a village in it somewhere with the capacity to launch cats. If for example, your spawn shares a 7 x 7 with another player, and that other player has cats, then u needn't build cats there yourself. If your spawn is isolated from your cluster and there are no SA players within its 7 x 7, then you will be required to build cats there. Look at the map, speak to your neighbours and work out where you need to build cats – then build them.

2. Treasuries
There are 3 types of artifacts. Small, large and unique. Small require a level 10 treasury. Large or unique require a level 20.
All players should be building at least one level 10 treasury. This would normally be from your hammer village. Players who harbour hopes of having and using an arty should be building more than one level 10 treasury village.

Where possible, players should also be building a level 20 treasury village. It is ESSENTIAL that any level 20 treasuries be built in a chiefable village. This means not in a capital and not in an army (offence or defence) village. You have at least 4 weeks to build your level 20 treasury. The cost is enormous and you will be wanting to start sooner rather than later. That being said, 4 weeks is sufficient and there is no reason why many of you shouldn't be able to build both a level 10 and a level 20 treasury. The more level 20s the alliance has, the more large/unique artefacts the alliance is able to hold and the better our chances at end game will be.

The introduction of artifacts has had a huge impact in the game. SA is showing itself to be one of the true server powers. Lets make sure that the artifacts end up where they should and get prepared to take them.

SoloMia

Queen in Training





Number of posts

: 1381


Age

: 35


Location

: NJ - U.S.A.



Preparations: Part 2- Expectations
In the first MM I spoke of how people should be making sure they have both local cats and treasuries.
Let me speak in this MM of treasuries. A level 20 treasury will cost you
∑1-201115675 1061440 999460 383505
or a staggering 3560080. In addition you will need 3 warehouses in the village to build it.
Whereas this may seem a lot, with sufficient planning will be achievable for many players. Certainly every top 100 account is expected to have a level 20 treasury. Every account 100-200 should seriously be considering getting one.
If you click on the following link
http://s6.travian.com/manual.php?s=1&typ=7
you will see your hourly income. Multiply this up by 24 and you see how much you earn per day. Anyone producing 1 million resources or more per day has the resources to build a level 20 treasury over the next 4 weeks and should be doing so.
REMEMBER: DO NOT BUILD YOUR LEVEL 20 TREASURY VILLAGE IN YOUR CAPITAL OR IN YOUR HAMMER VILLAGE.
In all likelihood the village will be friendly-chiefed from you during the server.

SoloMia

Queen in Training





Number of posts

: 1381


Age

: 35


Location

: NJ - U.S.A.



Artifact Preparations: Part 3: Seizure
Everyone in the alliance is going to take part in seizing the artifacts. Artifacts will be seized using 4 principle stages.
1. Softeners
2. Clear
3. Cats
4. Hero
As an alliance our main objective is to seize the artifacts quickly. Our method of seizing is designed with this in place. Do not worry that the artifact you are ordered to launch against is not one you want – all artifacts will make their way to the ultimate owners later. As to who will receive which artifact, that will be explained in subsequent MMs although all will be used for the good of the alliance. The first step, the seizing, is of primary importance and for that we need speed.
The speed of most seizures will be determined by wave 3 – the cat phase. It's for this reason that you have all been ordered to build local cats – 150 would be ideal. Once you have your location for the 150 cats, please IGM Orion with the subject "local cats" and give the location by coordinate and tourney square of these cats. Remember, these cats don't need more than around 100 crop escort .
Let me now discuss stage 1, the softeners. Every member of the alliance must have, by July 30th a softener army of at between 2-4k. The natar defence is principally anti-infantry so ideally your softener would be 2k of cavalry, or up to 4k infantry. This army should not be part of your hammer, but a stand alone suicide built for one purpose – to kill natars. Of course you may raid with it in the interim, but once the natars appear they are off on a one way launch. The details of the launch will be explained in future MMs but so that u have an idea, once the natars become unbanned you will be launching your suicide army at a designated target. In this manner, the clear waves when they arrive wont be totaled and our armys will be the stronger for the mid game wars.
Checklist:
1. Have I built my level 10 treasury?
2. Is my income over 1 million per day ( check
http://s6.travian.com/manual.php?s=1&typ=7
) If so, have I built my level 20 treasury yet, or at least started it?
3. Have I registered where my level 20 is (or is to be) with orion Orion
4. Have I confirmed expressly with orion that my level 20 treasury is not in my cap and is in a chiefable village
5. Have I built my 150 local cats?
6. If my local cats are on a border, have I built up my Tourney square there yet?
7. Have I registered my local cat location with Orion
8. Will I have a suicide 2-4k softener ready in time?

SoloMia

Queen in Training





Number of posts

: 1381


Age

: 35


Location

: NJ - U.S.A.



Preparations: Part 4

So you think you want an arty do you? You want sleepless nights, constant attacks and to continue to help support Travian Gmbh by supplying them with constant $ to be turned into gold. Good. SA is the right place for you. This MM is designed to help inform you of the criteria by which artys will be assigned within the alliance. Please note that anyone within SA, subject to meeting the criteria below, can become host to an arty. You wont need to seize it – if it can benefit your account and the alliance, it will be taken for you. First some pre-requisites

1. Alliance First
You understand and accept that insofar as artys are concerned, they are to be used for the benefit of SA. You agree to participate in alliance missions and pass the arty as and when requested.

2. Activity
If you aren't active, you wont be having an arty. Artifacts are simply too important to have them in possession of someone who may be at risk of losing them. If you cant be active enough to monitor your account, or don't have sitters (within SA) then owning one is unlikely to happen. If you feel you may fall into this category, speak to your wing leader to see about getting extra sitters.

3. Gold
Being a compulsive gold user isn't a pre-requisite to hosting an arty. Having the capacity to spend gold is. Artifact villages will come under attack. That's a given. There will be times that you may need to NPC to feed troops, or to speed demolish a treasury to help transfer an artifact. All of this requires the capacity to use gold. If this rules some of you out then my apologies.

4. Ability to use the artifact
This may sound obvious but in fact requires some examination. If you have, for example, a level 17 barracks then having a troop train artifact would be pointless. One could achieve the same effect by simply building up your barracks to 20. Equally, if you have barracks at level 20 but are unable to keep it producing 24/7 then having a troop train arty isn't going to assist.

5. Spare treasury
To receive a small artifact, you must have at least one spare level 10 treasury and close to the village where the artifact is to be hosted. This is to facilitate a quick arty shift if things go pear-shaped. Different considerations apply for large/unique artys.


If you meet all the above criteria then its worth looking at the individual artys

1. End-game artifact
The endgame artifacts (unique and large structurals, rival confusions and eyes will be assigned to players. The primary criteria for being selected to host these will be 24/7 activity which borders on a psychiatric disorder.

2. Unique/large crop
These artys would ideally go to persons with huge numbers of troops, in multiple villages. The ideal receipient may well be a defence account, someone who would not present as an easy target and might otherwise be restricted in the amount of troops he could host. Holders of these artys will also be expected to allow people to park troops at them, (with the parker feeding them) and keep a vigilant eye out for incomings at all times.

3. Small crops
Small crop artys will go to people with large and otherwise unmanageable hammers. Please bear in mind when it comes time to request an arty that the small crop is often a mixed blessing. Normally, hosting such an arty will mean hosting static defences of up to around 30k, though it will only cost u 15k to feed such statics. If the hammer village the arty is going to is <30k, you wont make any profit. This because the arty would only save you 15k an hour in your army, and you would be feeding an extra 15k in alliance re-ins.

4. Great Warehouse/Great Granery
During the early and mid-game, this arty will be available to all who seek to build level 19 or higher croplands. In the mid-end game it will be available to help people redecorate hammer villages to facilitate management or ww launches. Access to this arty will be broadly (with discretion) be on a first come, first onto the list, first served basis. One can get placed on the "list" once your level 18 croplands are concluded, or you are able to give an accurate estimate as to when they will be. People will not be permitted to own this arty long, certainly not more than 5-7 days or so and should ensure that they are in possession of sufficient resources to speed build that which is required whilst it is in their possession.

5. Troop Trains
In the early and mid game, access to these artys will be based according to the following
(a) Those who have lost hammers, or part, during alliance ops – especially in arty seizures
(b) Those constantly volunteering and losing by attrition hammers in alliance ops
Crop Those needing a boost to hammer

In the end game priority will be given to those needing to boost their ww siege numbers.

Its worth noting that in SA, we do not envisage that troop train artys will be squirreled away with the big-boys and no one else getting a look in. A ww hammer started early enough wont need such an arty, indeed by having it u give away not only that u are building a ww hammer but also its location. Rather, the troop trains will be for the everyday, yet active, soldier.

For those defence accounts who have the capacity to build defence in multiple high level brx, the large troop train can also be used effectively, subject to the account holder having the resources to utilize it.

In addition its worth bearing in mind that most troop trains will be shared by up to 4 players. One will own it, queue up 1 weeks worth of troops and pass it on as soon as they are queued up to the next of the team of 4. This continues down the line and ideally, the troop train arty comes back to you just as your own troop queue is expiring.

6. Small Scout
We will be requiring certain volunteers to host this arty. Volunteers must be gaul or roman and be in possession of a lot of scouts (10k+), a high level tourney square and ideally be located centrally, or close to a border. Possession of such an arty will make you one of the SA scouters and you will be receiving constant requests for scoutings. Your activity and dedication levels must permit you to meet such requests as are made. People who believe they may fall into this category, should write to ageless, with the subject heading "SA SCOUTER" giving details of your account set up.

7. Boots
The increased travel speed makes this item ideal for those constantly attacking and on alliance ops. They should not be seen as merely an aid to quicker farming.

8. Small Structural
Useful for players under attack, border villages and the like.

9. Small confusion
Will normally be assigned to hammer villages, to prevent croplocks and chiefings.

10. Of the Fool
This arty is ideal for gold users and pro players. The ideal way to use this arty involves mass queuing of troops when the arty is in benefit mode, and a quick transfer and back again, to a diff village, so that the arty is "turned off" during its negative impact stages.

Later this week there will be a further MM explaining how u can get placed on the wish-lists for various artifacts. DO NOT SEND me or any other leadership your requests yet save for those wishing to be a specialist scouter.

SoloMia

Queen in Training





Number of posts

: 1381


Age

: 35


Location

: NJ - U.S.A.



Preparations: Part 5
The Softener
In this MM I intend to talk about the softener army and to respond to the many questions ive heard which principally boil down to two things
1. Do I need to build one?
2. Where should I be building one?
The purpose of the softener army is to allow artys to be seized the quicker. It allows for a speedy seizure because it means that clears can be smaller and therefore come from closer. The fact that it also means that we wont be losing some of the principle SA hammers in the seizing is an extra benefit.
Let us consider a standard small artifact defence (note, these numbers may be different on s.6 given natar defences change according to the state of the servers army levels)
http://illiweb.com/fa/pbucket.gif
The first thing we note is that the natar defence is heavily bias towards anti-infantry and for a small arty is approx 29k of troops. Its for this reason I suggest that softeners be made up of cavalry where possible.
Without a softener a 16.5k army (assuming all are level 20 Blacksmith) could clear the arty, just.

Now let us assume that 4 softeners launch ahead of the clear. They would deplete the natar defences as follows: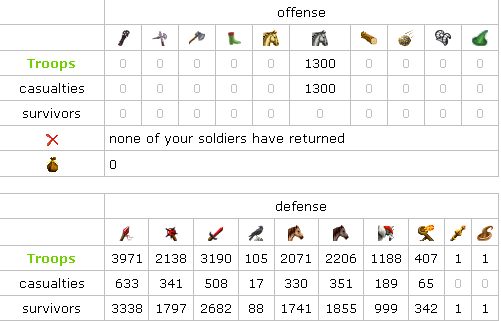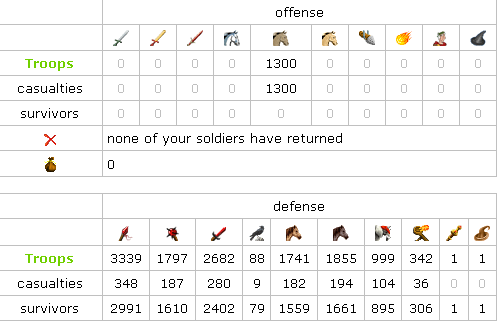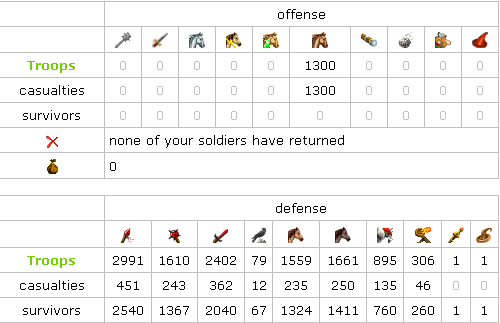 such that when the same clear arrives it would only take <33% losses
Please understand that it isn't merely the benefit of preserving the larger hammers that this is aimed at. By softening natar defences we allow many more hammers to come into play, and not just the alliance Uber-hammers. This means more artys can be seized and quicker than if we needed to await the larger clearers.
In SA we have 160 accounts. All accounts are expected to provide a softener army – even those who may be hosting large hammers, or are otherwise defence accounts. If all make their softener armys, we will have around 640k of suicide armys. For every person who doesn't build one, the cost and burden will fall on those who do and arty seizing could be slower. That is not teamwork but being carried by the team. We have no wish to carry people in SA.
The fact that you may be a defence account, or intending to build a ww hammer is irrelevant for these purposes. We have 3 weeks (approx) till artys. If u haven't started your softener, get started now. If it means you go negative crop, take comfort in the fact that the army will be burned soon. If you despair at the fact that building it will slow down your production consider this. Any arty we don't seize in this first phase 1 we will be compelled to seek from other quads later and at a much higher cost. Your production and a pretty account are so as to enable alliance operations to take place and for you to be part of the winning team. It's a means to an end, not the end itself. Don't worry about your production being slowed down – now is the time to be focusing on artys, not on your account.
Where should I build my softener?
Unlike local cats, your softener should be built by your main power base (ie your cluster). This will give softeners all over the quad and enable you to build and feed it the easier.
Checklist
1. Have I built my level 10 treasury?
2. Is my income over 1 million per day ( check
http://s6.travian.com/manual.php?s=1&typ=7
) If so, have I built my level 20 treasury yet, or at least started it?
3. Have I registered where my level 20 is (or is to be) with orion
4. Have I confirmed expressly with orion that my level 20 treasury is not in my cap and is in a chiefable village
5. Have I built my 150 local cats?
6. If my local cats are on a border, have I built up my Tourney square there yet?
7. Have I registered my local cat location with orion
8. Have I started my 2-4k softener yet – preferably cavalry?
Please note the importance of points 3 and 7 above. By Friday of this week all level 20 Treasury villages must be registered with orion, whether or not the treasury is complete yet. The sooner local cat locations are identified, the better too.

SoloMia

Queen in Training





Number of posts

: 1381


Age

: 35


Location

: NJ - U.S.A.



Arty Preps 6: Registration of Info

The reason that troop counts are asked for as well as other information is so that your troops can be used. Its not going to matter if a natar village pops up next to your hammer and treasury if the artefact planners aren't aware of your hammer, or your treasury.

Every day the natars spawning gets closer. Even though our best estimates are that we have 3 weeks left, it wouldn't surprise me if the Travian Gods (admins) decided to mess with us again and bring them early. For those who think even the Gods couldn't be so cruel, just consider where the 150% 15c's are located in the NE.

Accordingly we need the following information urgently. Please copy/paste the following questions and send it to Orion

1. What are the co ordinates of all villages you have ,or will have within 20 days, 150 cats at?
2. What are, or will be within 20 days, the co ordinates of your level 20 treasury village?
3. Is your level 20 village chiefable (yes/no)?
4. What are teh co ordinates of your level 10 treasuries?
5. What co ordinates will your softener army be hosted from?


I am very conscious that you are being bombarded with MMs and requests for information. Some of you may feel that you have already responded to the info and we are wasting your time. To those I'd ask you to consider the amount of IGMs that orion needs to go through and bear in mind that occasionally some get missed. You have all put a lot of hard work into preparing for artys – It would be a great shame if that went for naught simply because the arty planners weren't aware of what you have built and where.


SoloMia

Queen in Training





Number of posts

: 1381


Age

: 35


Location

: NJ - U.S.A.



MM: Sign me Up .. I want an Arty
We are getting loads of info these days about the artifacts: what they are, how do we get them, how do we get ready …
All this is with the purpose of being able to get as many as possible. The more we get, the stronger the alliance will become and the more fun we will have sharing it and using them. And we all want to have our share of artifacts, true?. *ehem*
So this MM is about that, about the sharing, about who wants the thrill of incoming attacks and the rush of adrenalin that having an artifact implies. Lets face it, we all love that excitement, Isn't that right?.
So for those of you adrenalin junkies, we have put together this questionnaire where you can tell us the information we need to short this out.
You need to send this questionaire to Nacho and specify "Questionaire" in the subject of the IGM.
___________________________________
Player Name:
Co-ords of your capital:
Race:
Type of account (offence/defence/ww hammer/mixed):
Name of the artifact/artifacts you wish to have:
In relation to each, why?
Are you a gold user?
Do you permit your sitters to spend your gold?
How many players play in your account?
What time zones are they?
Names of your sitters:
Crop fields level at capital:
Barracks/stable level at troop city:
Do you have a treasury level 20 in chiefable village?
How many level 10 treasuries do you have?
How many resources per hour does your account produce?
http://s6.travian.com/manual.php?s=1&typ=7
__________________________________
Only those that send this information will be included in the Artifact Sharing Program ... Lets get started!!!!

SoloMia

Queen in Training





Number of posts

: 1381


Age

: 35


Location

: NJ - U.S.A.



Artifact Drills
Seizing the artifacts is not a straight-forward process. It will involve multiple launches, from multiple villages from over 150 different accounts. IGMs will need to be written, skype rooms opened and a level of co ordination required which we trust will put the other quadrants to shame. We are aiming high because we want to achieve high.
The downside with any complex operation is that there will be ****-ups. Notable ****-ups in past servers have involved cats landing ahead of clears, sending to wrong targets, or on wrong days. Power cuts, parents removing their childs' access to the net and other acts of god. Some of these things we can do nothing to avoid, after all, its our alliance name. As to the rest, we can and shall.
This is a long winded way of introducing you to the arty drills. These drills will be designed to get you used to the procedures we will be employing when we seize the artifacts as well as ironing out some of the more obvious and recurring errors. Some of them may seem silly to you, or even banal. Please bear with us and try and comply as exactly with the orders as you can.
When a drill is to take effect an MM will go out with the subject title Battle Drill. The MM will contain a link to the relevant forum post where the drill instructions can be viewed. There will be no instructions within the MM itself. It is essential, therefore, that all members are able to view the forum. If you cannot, then you wont be able to participate in the arty seizures. Anyone still having problems accessing the forum should IGM
http://s6.travian.com/spieler.php?uid=1621
or
http://s6.travian.com/spieler.php?uid=7088
and explain what the problem is.
Let me end this introduction to the drills by saying that peoples commitments to the drills, and their scores they obtain in them, will not be the be-all and end-all as to whether you get an arty, but they will be a relevant factor.
Best of luck all

SoloMia

Queen in Training





Number of posts

: 1381


Age

: 35


Location

: NJ - U.S.A.





Similar topics
---
Permissions in this forum:
You
cannot
reply to topics in this forum